MAZDA Brake Service near Seabrook LA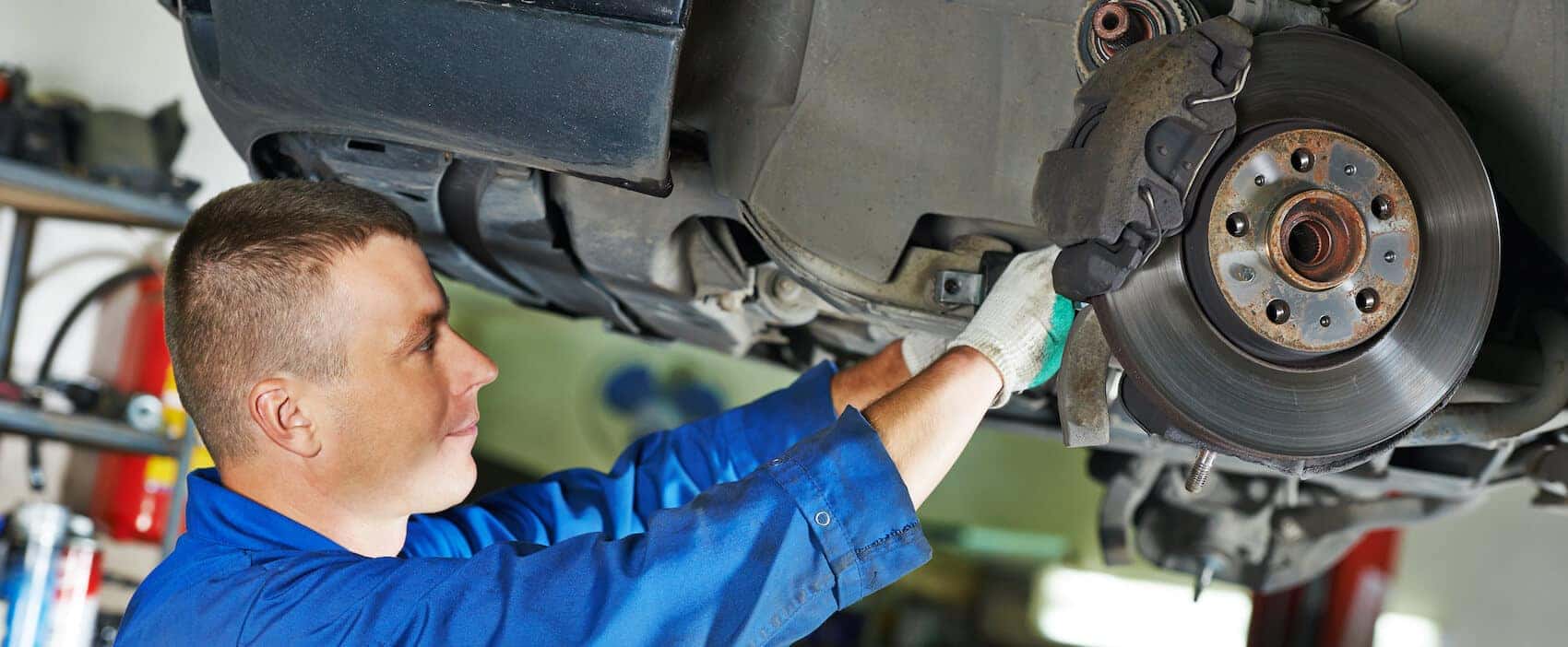 When you press on your vehicle's brake pedal, you usually don't think anything of it. You simply expect your vehicle's brakes to help your vehicle stop on time every time. Sometimes, however, that might not be the case. Your brakes may one day end up falling closer to the floor when you press on the brake pedal or your car may start to make squealing noises.
When either of these situations occurs, that signals it's time to have your brakes looked at. If you need Mazda brake service near Seabrook, Louisiana, the best thing you can do is to bring your set of wheels to the service center at Paretti Mazda!
---
Our Brake Repair Services
Visiting our Mazda service center for brake repair is a great idea since we field an all-star team of certified technicians who have plenty of experience with all things related to brakes. Once your car is in their hands, they'll carefully test your brakes and look for leaks, noises, and more to accurately determine the issue. They'll then get to work right away to fix the problem.
Some of the many services they can perform include:
Brake part repairs
Replacements
Leak repairs
Although our technicians can handle any type of brake service, you may be the DIY type who enjoys working on your car on your own. Stop by our parts center to get whatever you need to complete the repairs. Here, you'll find all the same genuine OEM (original equipment manufacturer) Mazda parts that our car gurus use.
---
Common Signs of Brake Failure
Taking care of your brakes when they need it is one of the best things you can do to help ensure your safety. It's important to be able to identify common signs of brake failure so you don't delay having them looked at. Here are just a few of these signs.
Brake light turns on: Whenever this happens, it means your brakes require routine maintenance or another service is needed. This light is circular with an exclamation point on the inside and features parenthesis on the outside. Additionally, it will either be red or orange in color.
Squealing or grinding noises: Any kind of squealing or grinding noises coming from your vehicle indicates an issue that needs to be taken care of ASAP. Although these noises may be a brake issue, they could also be the result of low engine oil or something else.
Burning odors: Your car should never emit a burning odor for any reason. This could mean your brakes are overheated, which should be addressed immediately. If you notice a burning odor, pull over when you're able to do so safely and turn off the car. Wait for it to cool down, then visit our service center to get an accurate diagnosis.
Being able to look out for these signs, as well as others, you'll be able to quickly identify that there's an issue that needs to be addressed ASAP, keeping you and your car safe in the process.
---
Why Brake Service Is Important
You already know brake service is essential to helping keep you safe and your car in working order for the long haul. But did you know there are additional reasons why brake service is so critical?
On top of safety, timely brake service will save money on major repairs to both your vehicle's drivetrain and powertrain components as well as the body. You can also extend the life of your brakes with regular maintenance like inspections, which are generally performed with other routine maintenance services, such as oil changes and tire rotations.
---
Expert MAZDA Brake Service near Seabrook La
When your brakes are on the fritz, there's no need to worry! You can bring your car to Paretti Mazda for expert Mazda brake service near Seabrook, Louisiana! We'll identify the problem quickly and get you back on the road safely.
Call us or go online to schedule a service appointment today!
---